Suscríbete a HomeCine VIP, disfruta de una experiencia sin anuncios y sin cortes - ¡Clic Aquí!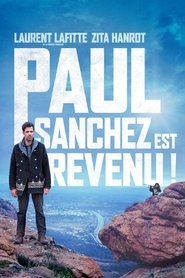 Paul Sanchez est revenu !
La reaparición del famoso criminal Paul Sánchez se convierte en una obsesión para un joven oficial de policía que hará cualquier cosa para atraparlo.
Duration: 110 min
Calidad: HD 720P
Año: 2018
Servidor
Idioma
Calidad
Links
HD 1080P
15:17 Tren a París
HD 1080P
Asalto en la noche
HD 1080P
Una pareja explosiva 2
Una pareja explosiva 2
HD 1080P
Hora punta 2 – Rush Hour 2 El detective James Carter se encuentra de vacaciones en Hong Kong con su buen amigo el detective Lee. Mientras Carter está ansioso por…
HD 720P
Punto muerto
HD 720P
Thicker Than Water
Thicker Than Water
HD 720P
Ha pasado un año desde que Paige y Nathan Decker perdieron trágicamente a sus adolescentes por una sobredosis de Zach. Nathan y su hija Addie han estado recuperando lentamente sus…
480p
Tiburón
HD 720P
The Target (El objetivo)
The Target (El objetivo)
HD 720P
Pyojeok (2014) Yeo-hoon, un mercenario de élite retirado, lleva una vida completamente normal. Un día, presencia un asesinato. Los criminales lo atacan, lo dejan malherido y es trasladado al hospital. Se…
HD 1080P
Desde la oscuridad
Desde la oscuridad
HD 1080P
Out of the Dark Sarah y Paul Harriman son estadounidenses, pero se ven olbigados a trasladarse a Colombia con su hija Hannah para dirigir el negocio del padre de Sarah….
HD 720P
Punto muerto
HD 720P
La chancha
HD 720P
The Isle
The Isle
HD 720P
1840 y otra nave se estrella en las rocas de una isla casi desierta en Escocia. Tres marineros sobreviven al naufragio y llegan a la orilla, donde los pocos lugareños…
HD 1080P
Thelma y Louise
Thelma y Louise
HD 1080P
Thelma Dickinson, un ama de casa de vida vacía y anodina, está casada con un cretino detestable que la trata como a una niña. Por su parte, Louise Sawyer trabaja…