Suscríbete a HomeCine VIP, disfruta de una experiencia sin anuncios y sin cortes - ¡Clic Aquí!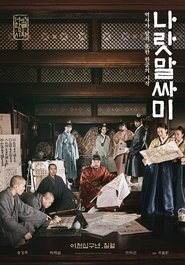 The King's Letters
나랏말싸미
Una película histórica sobre el rey Sejong que arriesgó todo para inventar el Hunminjeongeum (escritura coreana) para su gente y las personas que no estaban registradas en la historia.
Duration: 110 min
Calidad: HD 720P
Año: 2019
Servidor
Idioma
Calidad
Links
HD 720P
Farming
Farming
HD 720P
Enitan es un joven nigeriano que fue «cedido» por sus padres a una familia británica blanca con la esperanza de darle un futuro mejor. Atrapado entre dos mundos y sin…
480p
El topo
El topo
480p
El topo o Tinker Tailor Soldier Spy. Años 70, en plena guerra fría. El fracaso de una misión especial en Hungría provoca un cambio en la cúpula de los servicios…
HD 1080P
A la caza de los ñumanos
A la caza de los ñumanos
HD 1080P
Ricky es un rebelde chico de ciudad de doce años al que no encuentran hogar de acogida para él, salvo una granja en medio de la nada con una pareja;…
HD 720P
Richard Jewell
Richard Jewell
HD 720P
Extraído de los titulares: en los Juegos Olímpicos celebrados en Estados Unidos (Atlanta, Georgia, para ser exactos) en 1996, el guardia de seguridad Richard Jewell piensa rápido, trabaja rápido y…
HD 1080P
Esencia de mujer
Esencia de mujer
HD 1080P
Frank Slade es un malhumorado Coronel en la reserva del ejército norteamericano, retirado pues sufre de ceguera. Durante el fin de semana de Acción de Gracias el joven estudiante Charlie…
HD 1080P
Acrimony
HD 1080P
A contrarreloj
A contrarreloj
HD 1080P
Out of Time Matt Lee Whitlock (Denzel Washington), el jefe de policía de la pequeña ciudad de Banyan Key, en Florida, es apreciado por sus colegas y querido por sus…
HD 1080P
El club
El club
HD 1080P
Bajo la atenta mirada de una mujer que los cuida, cuatro sacerdotes fugitivos viven en una pequeña casa de un pueblo costero. Todos ellos cometieron actos que los atormentan y…
HD 1080P
Cantinflas
Cantinflas
HD 1080P
Cantinflas 2014 Mike Todd, un excéntrico productor de Broadway, llega a Los Ángeles con un proyecto de película bastante descabellado, La vuelta al mundo en 80 días, con el que…
HD 1080P
Uno tan diferente como yo
Uno tan diferente como yo
HD 1080P
Same Kind of Different as Me Deborah (Renée Zellweger) y su esposo Ron (Greg Kinnear) son un matrimonio pudiente que actualmente atraviesa una etapa difícil, en la que incluso han…
HD 720P
Una pequeña mentira
Una pequeña mentira
HD 720P
Fourmi El joven Theo está muy preocupado por su padre Laurent, un hombre solitario que se encuentra realmente desilusionado por la vida. Un día parece que todo cambia cuando a…
HD 720P
Agent of Deceit
Agent of Deceit
HD 720P
Who's Stalking Me? Después de una experiencia cercana a la muerte cuando un atacante irrumpe en su casa, Amanda no puede sacudirse la sensación de que todavía está en peligro….